Build Quality and Design
The Schneider-Kreuznach 80mm f/2.8 LS lens is a testament to precise German engineering. This lens embodies a high-grade aluminum alloy build, showcasing a sleek, modern design that belies its inherent toughness. The lens's construction speaks volumes about its durability and resilience, capable of withstanding professional use in various environments. The focus ring has the proper resistance for precise focus adjustments. The leaf shutter (LS) is a key feature, allowing high-speed flash sync, an essential attribute for studio photographers.
Optical Performance
Schneider-Kreuznach has always been celebrated for its superior optics, and the 80mm f/2.8 LS lens is no exception. The lens performs exceptionally well regarding sharpness and clarity, especially in color accuracy. It produces sharp images with excellent contrast, even wide open at f/2.8. The lens controls chromatic aberration well. However, barrel distortion is noticeable. The bokeh is smooth and pleasing, contributing to the images' highly aesthetic and professional look.
Image Engagement
The 80mm f/2.8 LS lens manages to engage viewers by producing images that are not just technically excellent but also aesthetically pleasing. Its focal length (50mm when converted to Full Frame, see Compatibility and Adaptability), combined with a maximum aperture of f/2.8, allows photographers to create a beautiful separation of the subject from the background. This lens consistently delivers photos with a pleasant two-dimensional pop, a highly desired trait in recent professional portraiture and fashion photography.
PhotoFinesse
The Schneider-Kreuznach 80mm f/2.8 LS lens lends exquisite finesse to the photos. This lens's characteristic rendering style imparts a certain elegance and subtlety to the images. The colors it renders are rich and accurate, and the contrast is well-balanced. The lens also captures fine details, making it a choice for high-resolution photography.
Photographing Journey
Working with the Schneider-Kreuznach 80mm f/2.8 LS lens is a rewarding experience. The focus ring is smooth and precise, allowing photographers to control the focus with high assurance. The leaf shutter is quiet and reliable when mounted on Medium Format cameras. The lens's performance remains consistent across different lighting conditions and shooting scenarios, making it a reliable companion for various photographic assignments.
Compatibility and Adaptability
The lens's compatibility is primarily with medium format cameras. The high resolving power of the lens makes it ideal for high-resolution medium format sensors. The lens also adapts well to Full Frame cameras. Lens conversion from medium format to full-frame crops the focal length and f-stops from 80mm to 50mm (49.6mm) with the EOS R system (645 crop factor is 0.62). You can learn more about crop factors here. Additionally, the described above camera-adapter-lens setup does not allow (Mamiya leaf shutter autofocusing lenses) for aperture adjustment, and the aperture will stay fixed wide open at f/1.4. For the reasons above, I no longer keep the Mamiya Sekor / Schneider-Kreuznach 80mm f/2.8 LS lens. The Schneider-Kreuznach 80mm f/2.8 LS lens can be adapted to Canon R5 using Fotodiox Pro Gen10 FC Chip Mamiya M645 Lens to Canon EOS EF/EF-s adapter plus Canon EF to EOS R adapter.
Final Words
In conclusion, the Schneider-Kreuznach 80mm f/2.8 LS lens is a workhorse that combines superior build quality, excellent optics, and versatile compatibility. It's consistently delivering high-quality images in various shooting conditions makes it a solid investment for serious photographers. While the lens may command a premium price tag, its performance level makes it worth every penny for those seeking to elevate their photographic work to the highest professional standards.
Sample Photos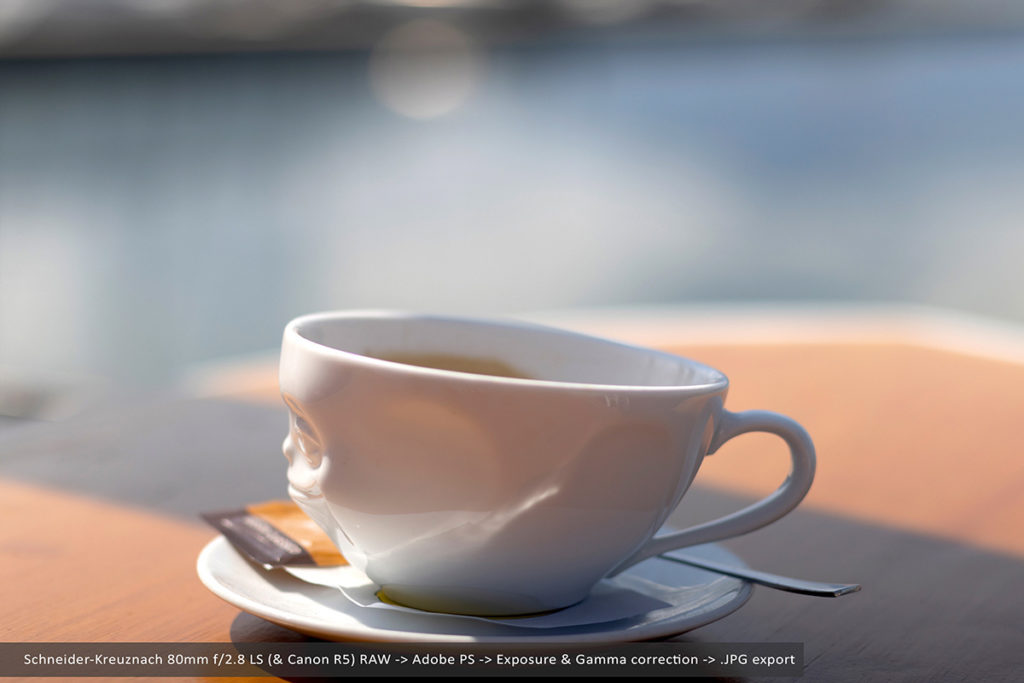 Pros: Gorgeous bokeh, natural colors, focus peaking, and guides work on EOS R5; compact and not too bulky and heavy. Sharp.
Cons: Plasticky feel, fixed aperture at f/1.4 with EOS R system that can not be changed (using the adapter's setup I used); Noticeable barrel distortion.