Build Quality and Design
Constructed with high-quality materials, the Alpa Swiss 28mm f/2.8 MC lens features a solid all-metal barrel, ensuring durability and longevity. Its smooth manual focus ring and classic design give the photographer a comfortable and enjoyable experience.
Optical Performance
This compact and versatile lens offers good optical performance, with its multicoated (MC) design ensuring very good color rendition and contrast while minimizing ghosting and flare. The lens exhibits distortion and vignetting when shooting wide open at f/2.8, creating a distinctive retro look to its images.
Image Engagement and Aesthetics
The Alpa Swiss 28mm f/2.8 MC lens provides a captivating visual interaction, producing images that draw the viewer in and hold their attention. The lens's ability to capture intricate details and subtle colors adds to the overall appeal of the photographs.
The lens imparts a distinct retro aesthetic to the images it captures, evoking a sense of nostalgia and timelessness. This vintage look can add character and depth to your photographs, setting them apart from contemporary digital images.
PhotoFinesse
The Alpa Swiss 28mm f/2.8 MC lens enables photographers to achieve a high level of PhotoFinesse, thanks to its outstanding optical performance and unique character. It is ideal for artists seeking a lens that delivers exceptional results with a distinctive touch and compact size.
Photographing Journey
As a manual focus lens, the Alpa Swiss 28mm f/2.8 MC offers a tactile and engaging experience that enhances the photographic journey. The smooth focus ring and well-damped operation make it easy to achieve precise focus. At the same time, the engraved distance and depth of field scales provide helpful guidance for zone focusing and hyperfocal techniques.
Portability
The compact size and relatively lightweight design (320g) of the Alpa Swiss 28mm f/2.8 MC lens make it a highly portable option, perfect for photographers who enjoy street photography, value mobility, and the ability to travel light.
Compatibility and Adaptability
Initially designed for use with Alpa camera systems, the Alpa Swiss 28mm f/2.8 MC lens can be adapted for use with various mirrorless and DSLR cameras, including popular brands like Canon, Nikon, Sony, and Fujifilm. For testing the lens, we used a simple metal built M42 to EOS EF adapter, and then we connected it to the EOS EF to EOS R adapter to use the lens with the EOS R5 camera. This adaptability adds to the lens's overall versatility and makes it an attractive option for photographers using multiple camera systems. Note that no lens data is transferred to the camera in this setup.
Sample Photos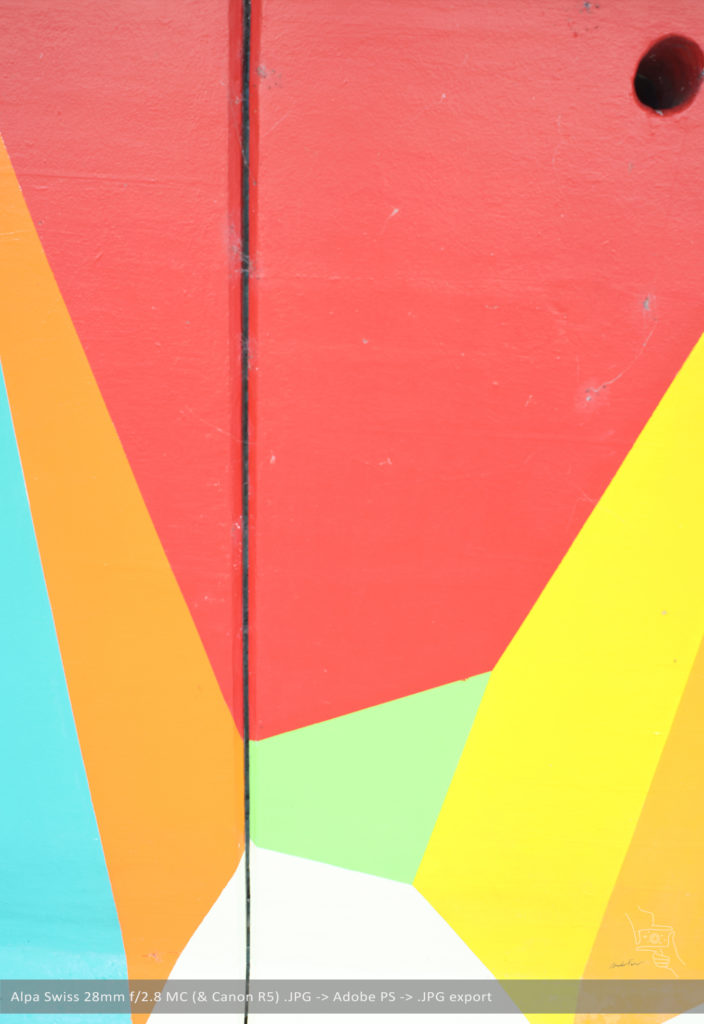 Pros: Light, compact, fast, wide-angle lens; Multi-coating prevents excessive flares.
Cons: Not very sharp outside of the image center.