Cardiopulmonary resuscitation (CPR) is a lifesaving technique useful in emergencies such as a heart attack or near-drowning where someone's breathing or heartbeat has stopped. This guide aims to provide easy-to-follow instructions on CPR on adults, children, and infants.
Note: While this guide is an educational resource, it is crucial to undergo certified CPR training for hands-on practice and skills assessment.
1. Check for Danger and Body Response
For All Ages
Firstly, ensure the environment is safe for both you and the victim.
Approach the victim and try to get a response by tapping on their shoulder and asking loudly, "Are you okay?"
2. If No Response – Call 112 (or 911 in the U.S.)
For All Ages
If the victim does not respond, shout for help or instruct someone nearby to call emergency services.
Provide the dispatcher with your location and a description of the emergency.
3. Check Airways and Breathing
For All Ages
Position the victim on their back on a firm, flat surface.
Open their airway by tilting their head backward with one hand while lifting their chin with the other.
Check for breathing by putting your ear near the victim's mouth and nose, listening for breath sounds, and watching for chest movement.
4. Make 30 Compressions at a rate of 100-120 a Minute
For Adults
Place the heel of one hand on the center of the chest and the other hand on top, interlocking the fingers.
Press down hard and fast, about 5 cm deep, using both hands.
Ensure you allow the chest to recoil between compressions fully.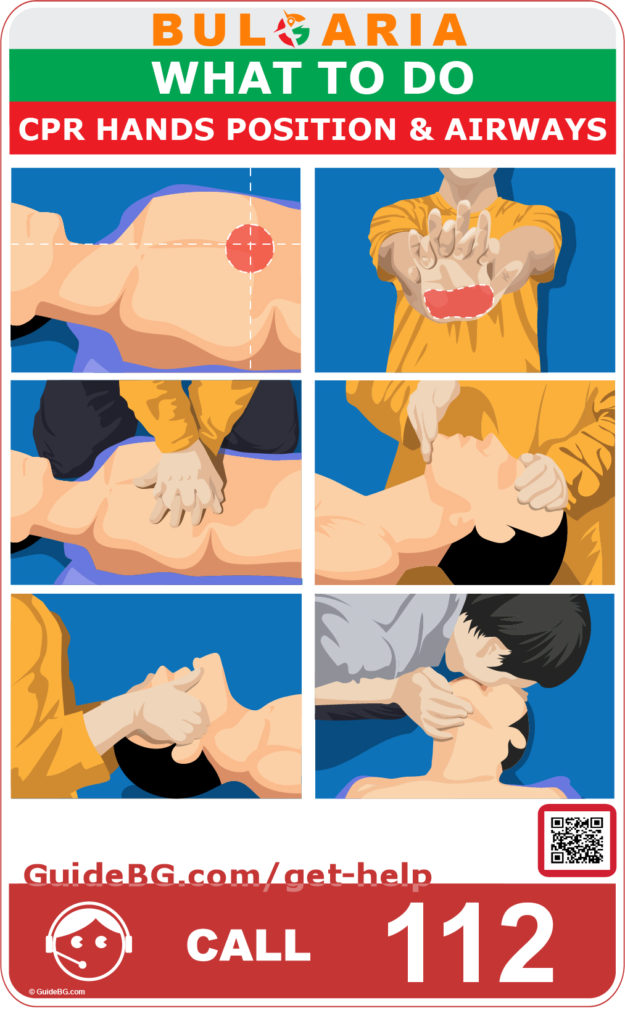 For Children
Use the heel of one hand for compressions.
Press about 5 cm deep at 100-120 compressions per minute.
For Infants
Use two fingers (index and middle) to deliver compressions.
Press 3-4 cm deep at 100-120 compressions per minute.
5. Immediately Follow With 2 Rescue Breaths
For All Ages
After 30 compressions, tilt the victim's head backward again and lift the chin up.
Pinch the nose shut for adults and children. For infants, cover their mouth and nose with your mouth.
Give 2 rescue breaths, making sure the chest rises with each breath.
6. Continue CPR Until Help Becomes Available
For All Ages
Keep alternating 30 compressions and 2 breaths.
Continue CPR until medical help arrives, the victim starts breathing, or another trained responder can take over.
Additional Tips
If you are untrained or unsure about giving rescue breaths, compressions-only CPR is better than no CPR.
Always use a CPR mask or barrier device if available.
Recheck the victim's pulse and breathing occasionally if you are trained.
Remember, your actions can save a life. Regularly refresh your CPR knowledge and skills through certified training programs.
You may also need to know: