Camping can be a truly enriching experience. It allows you to disconnect from the distractions and stresses of daily life and reconnect with nature and yourself. Camping can also be a great way to bond with friends and family and create lasting experiences and memories. One of the most emotional aspects of camping is its opportunity to unplug and disconnect from technology and the fast-paced modern world. Taking a break from computers and screens and the constant stream of information can rejuvenate and allow you to clear your mind and refocus your energy.
Spending a long time in nature can also be incredibly inspirational and calming. The beauty and majesty of the natural world can be awe-inspiring and provide a sense of perspective and appreciation for the world around us. Camping can also be an excellent opportunity to try new things, such as hiking, swimming, or stargazing, and discover new passions and interests.
Camping can be an enriching and inspiring experience that allows you to disconnect from the distractions of daily life and connect with nature!
Recommended Camping Spots
Among the many camping places in Bulgaria, we can recommend a few:
Camping Goldfish near Sozopol at the Black Sea
Nestinarka Bungalows, near Tzarevo at the Black Sea
Camping Yazovir Valtata, near Samuilovo
Verila Houses and Camping, near Separeva Bania
Recommended Camping Resources
We recommend checking web resources such as Campercontact and the Bulgarian Camping Portal for more detailed information.
Camping & Wild Camping in Bulgaria
Wild camping, also known as backcountry or dispersed camping, is the practice of camping in a natural environment, usually in a remote area, without the amenities and facilities often found at designated campsites. This type of camping is typically done in areas without established campsites or where camping is not otherwise permitted. It allows campers to experience a more immersive and natural setting, away from the crowds and amenities of developed campsites. Wild campers need to follow "Leave No Trace" principles and to be mindful of their impact on the environment.
In Bulgaria, wild camping is generally not allowed. The country has several designated campsites and areas where camping is permitted, but camping outside these designated areas is generally not allowed. There are many protected areas in Bulgarian territory, including national parks, nature reserves, and natural landmarks, where camping is strictly prohibited to preserve the natural environment. It is essential to respect the rules and regulations to protect flora and fauna in these areas. If you plan to camp in Bulgaria, staying at a designated campsite or seeking permission from the authorities to camp in a specific area is recommended.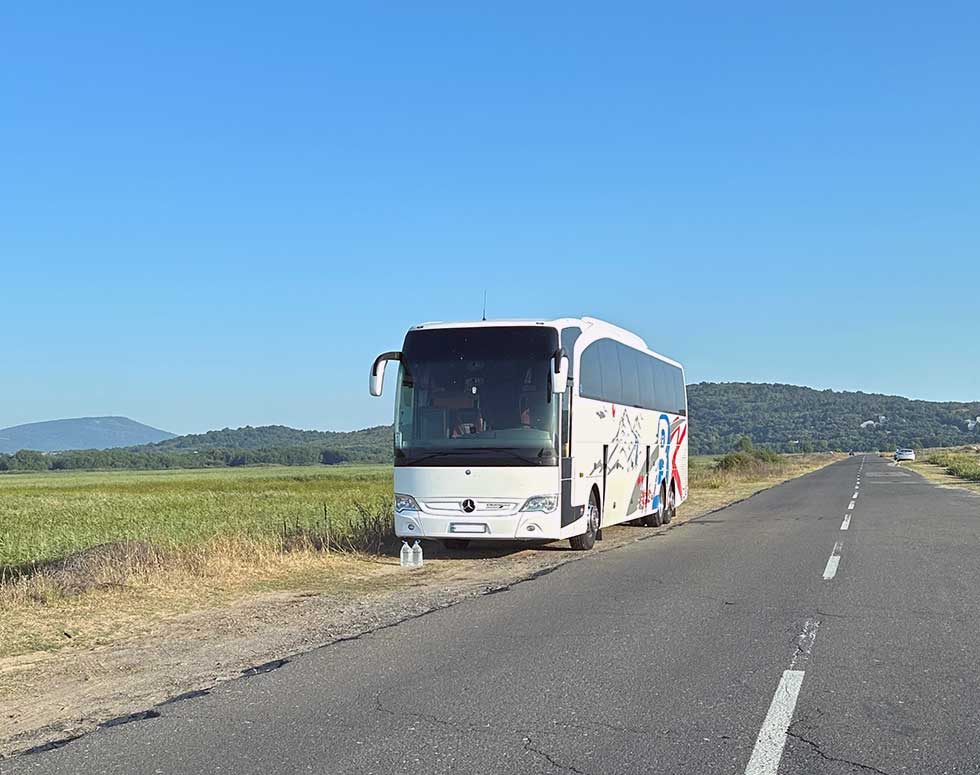 What we often see in Bulgaria are people trying to "wild-camp" with caravans, RV (recreational vehicle) campers, or trailer campers in the wild. Caravan camping, while allowing campers to have many of the comforts of home while on the road, can hurt nature.
In Bulgaria, caravan camping can be done at campsites that have designated areas for RVs and trailers, or it can be done in more remote locations where you can park your caravan and set up camp. Some campers prefer to stay at established campsites with amenities like electricity, water, and sewage hookups, while others prefer to rough it and camp in more rural locations.
Regardless of where you go, caravan camping, following local laws and regulations and being mindful of your environmental impact is essential.
Keeping a few points in mind
To stay problem free, we recommend keeping a few points in mind when preparing to set up a camp or a caravan camp in Bulgaria:
Please stay away from the big cities because they have stricter controls from authorities
Avoid nature parks and nature preserves. Camping in these areas may result in a fine of up to EUR 1000
To spend the night in a private area, you must ask the owner for permission first
Lighting a fire away from public fireplaces is strictly forbidden, so use your camping equipment if you want to prepare warm food.
We are strictly against camping in non-designated camping areas and breaching the "Leave No Trace" rules. Camping can be as harmful to nature as illegal construction.
Since July 2023, new rules for "free camping" have been debated in the Bulgarian Parliament, and camping will likely become more regulated. Regulation changes are expected to come into force in January 2024, and they will likely limit camping activities in areas such as preserves, natural landmarks, and protected areas. "Free camping" zones are expected to be regulated. They will require the availability of mobile sanitary points, dedicated parking spaces, and a clear statement of the camping zone's rules to be displayed.