Unlike the Netherlands, Bulgaria has high mountains and many mountain passes. Outside temperature can change quickly for a relatively short period when driving high up. Also, Bulgaria has a dry continental climate, and temperatures may drop soon at the high planes in the winter at night and when it is windy. If you are visiting Bulgaria from the Netherlands for a road trip, you can find more information and suggestions below.
How Can I Reach Bulgaria from the Netherlands?
Bulgaria is situated in South Europe. There is one classical way to reach Bulgaria from the Netherlands, and it travels South-East via Germany, Czech Republic, Slovakia, Hungary, and Serbia and reaches Bulgaria from the North. You will enter the country through the Kalotina border crossing.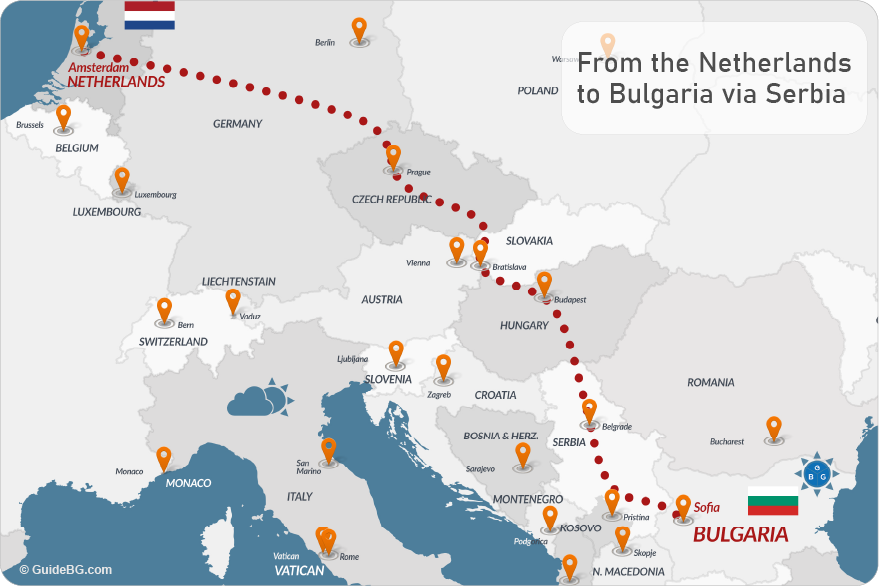 Drivers License
You don't need an International Driver's License to drive in Bulgaria. You need to carry your Dutch driver's license with you.
Bicycles on the Road
Bicycles are not the king of the road. Some bikers may drive more aggressively than others in the Netherlands. In the cities, you can see bikers going opposite the traffic. This is against the rules, but still, some bikers will do it. See common traffic violations by cyclists.
Speed Limits
Yes, you can drive faster in Bulgaria than in the Netherlands. Check the speed limits in Bulgaria. First, do not speed. 5% faster is fast enough.
Camping
If you like to visit Bulgaria with a camper or a caravan, you can do so. It is fun and economical as well. If you are arriving with a caravan, please know the parking rules in Bulgaria. There are designated parking spaces for caravans in summer and winter resorts. Parking in non-designated areas is not fun and can harm nature too. Check our camping resource for more information.
Winter Tires
We use winter tires in Bulgaria. Winter tires are mandatory between November 15 and March 1. A thread of a minimum of 4 mm is compulsory and enforced by law. It is recommended to have your winter tires if you plan to drive across mountain passes. Check the weather and road conditions in advance. If you are planning a visit in the winter, it is recommended that you familiarize yourself with the basic instructions on how to drive in snow conditions in Bulgaria and how to put on snow chains as well.
Dustier Roads
Roads in Southern Europe are usually dustier as the weather is dryer, and there are differences in the humus (turf) structure. Because of that, you may need to use more washing fluid to keep the windshield clean. Make sure there is enough fluid in the water reservoir, and it may be a good idea to have a spare bottle in the trunk. You can always buy more from the petrol stations. Also, ensuring a proper non-freezing washer if you travel during the winter is essential.
More Driving Resources