Embark on a captivating 5-day journey through Southwestern Bulgaria's breathtaking landscapes and rich history. This curated itinerary will take you from the vibrant cityscapes of Sofia, through charming villages, to the majestic mountains of Rila and Pirin. Along the way, you'll explore significant sites, including the Rilski Monastery, Blagoedgrad, Melnik, and the Rozhen Monastery, with picturesque stopovers in Bansko, Dospat, Trigrad, Devin, and Smolyan. End your adventure with a visit to the enchanting Cross Forest Monastery before immersing yourself in the cultural heart of Plovdiv and finally returning to the lively pulse of Sofia. Suitable for first-time visitors, this trip offers a well-balanced blend of history, culture, and natural beauty, providing an authentic taste of Southwestern Bulgaria. Enjoy the journey at a comfortable pace, with an option to extend to 6 days for a more leisurely exploration, including an overnight stay in Plovdiv. Embark on this unforgettable road trip and create memories to last a lifetime.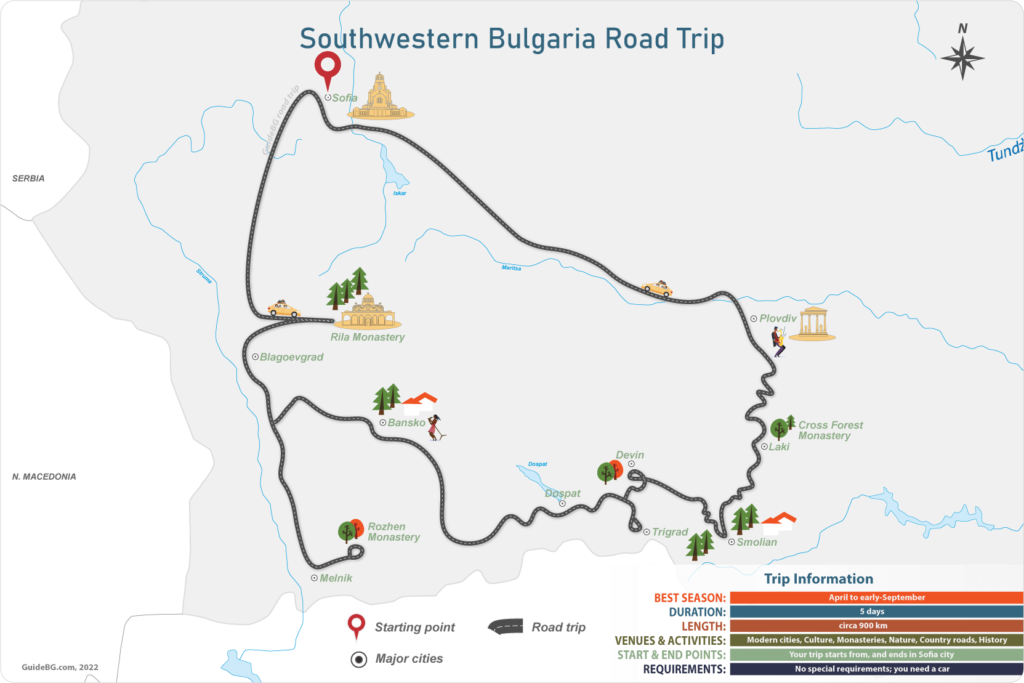 Day 1 – Sofia to Melnik
Distance Covered: 245 km | Drive Time: ~3h 45m | Terrain: Highway (construction and detours possible), motorways, country roads
Morning: Depart Sofia
Commence your adventure from Sofia, Bulgaria's bustling capital, early in the day. Flee the confines of a cramped airplane cabin and be greeted by Sofia's vibrant and historic atmosphere. Your journey begins.
At Sofia Airport, complete your arrival formalities, collect your luggage, and head towards your means of transportation. Opt for a taxi or utilize public transportation links to the city center. Rental car pick-up at the airport is highly recommended.
Need help navigating car rentals in Bulgaria – review our Car renting resource!
Need help getting from the airport to your hotel in Sofia?
Are you arriving by car? Parking in the capital, a city bustling with almost two million residents, can prove challenging. Hence, we recommend reserving your car for virtual drives only. The city center, remarkably compact, can be explored extensively within a twenty-thousand-step stroll. Leave your car safely tucked away at the hotel's parking facilities and plunge into Sofia's compelling cityscape. Suppose you are arriving in Bulgaria by car. In that case, we suggest reviewing the Driving and Road Tripping resource, specifically – Road Safety Regulations, Speed Limits, the General parking rules in Bulgaria, and the Toll system.
Mid-Morning: Explore Sofia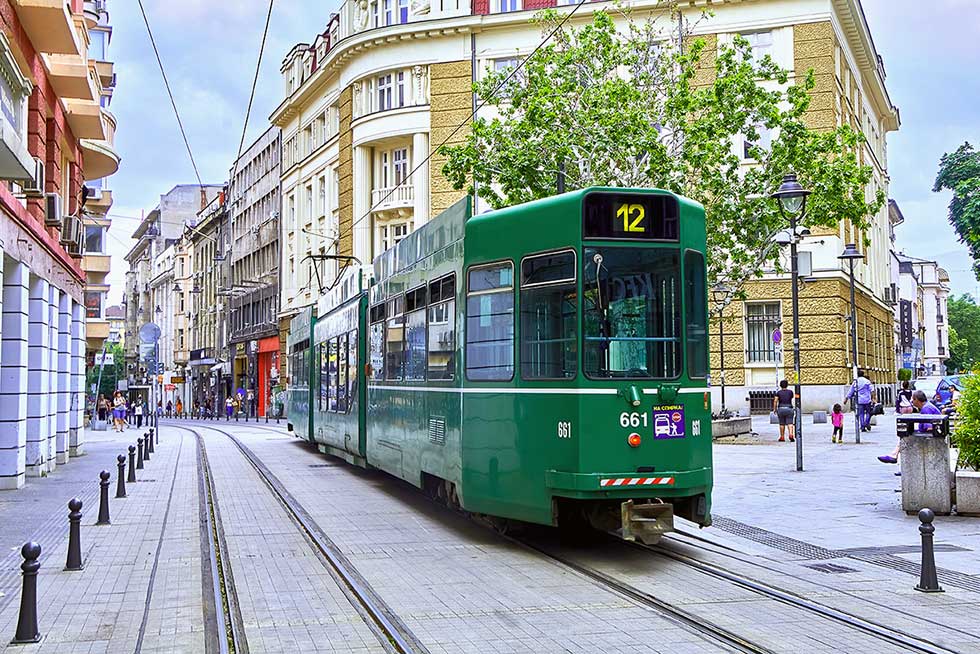 While in Sofia, weave through its rich tapestry of cultural and historical attractions. Marvel at the majestic Alexander Nevsky Cathedral, with its golden domes reaching for the heavens. Dive into the past at the Sofia History Museum, home to a treasure trove of Bulgarian artifacts and art. Stroll through the bustling city center, where myriad shops, restaurants, and cafés await exploration. Relish the chance to sample traditional Bulgarian cuisine here.
Midday: Head Towards Rila Monastery
Venture to the revered Rila Monastery, nestled amidst Rila Mountain's serene lakes and beauty. This historic Eastern Orthodox monastery, a UNESCO World Heritage Site, teems with fascinating stories from the past. Its splendid buildings, such as the Church of the Assumption, are adorned with intricate frescoes and icons. Visit the monastery's extensive library and museum to immerse yourself in Bulgaria's spiritual and cultural heritage.
Afternoon: Stop in Blagoevgrad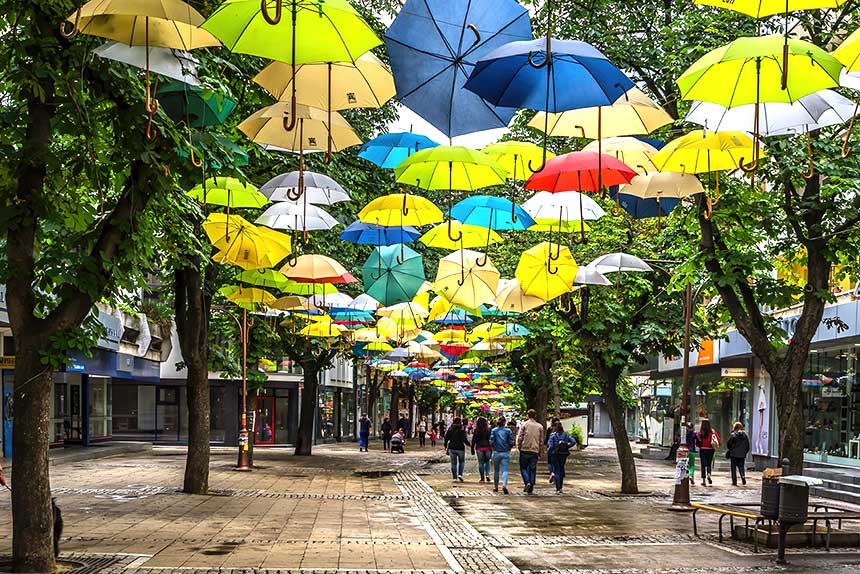 Resume your journey, making a quick detour to Blagoevgrad, renowned for its stunning natural surroundings. Here, amble through the old town, with its narrow streets, charming houses, and local businesses radiating a warm, inviting ambiance. Alternatively, visit the Blagoevgrad Art Gallery for an intriguing peek into Bulgaria's art scene.
Early Evening: Arrive in Melnik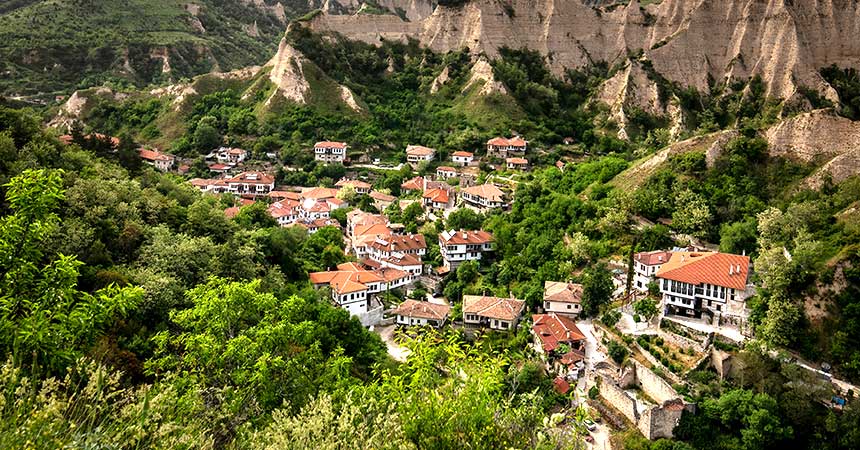 As the sun begins its descent, reach the quaint town of Melnik, the smallest in Bulgaria. Despite its size, Melnik is a place of immense character, with a rich history and cultural heritage. Bask in the splendor of the Pirin Mountains and the town's unique wine-making traditions. Conclude your day by gazing upon the remarkable Sand Pyramids as these towering sandstone cliffs paint a surreal silhouette against the evening sky.
Prepare for a tranquil night in Melnik, anticipating the discoveries that await on the morrow.
Day 2: Immersion in Melnik and Visit to Rozhen Monastery
Distance Covered: 60 km | Drive Time: ~1h 15m | Terrain: Country Roads
Morning: Melnik Exploration
Begin the second day nestled in the heart of Melnik, a town echoing the whispers of ancient Thracians, Greeks, and Bulgarian heritage. Despite its humble population, Melnik has a cornucopia of experiences to offer. It's time to uncover them.
Stroll through the cobblestone streets to the Kordopulova house, a well-preserved masterpiece of Bulgarian architecture. This house is your portal to the past, dating back to 1754. Continue your journey through time at the Boyar house, where echoes of long-gone residents resound in its sturdy walls.
Don't miss the fortress of Despot Alexius Slav, a testament to Melnik's historical significance. Then, venture out to explore the Melnik pyramids, a geological wonder offering panoramic vistas of the region's sublime landscape.
Midday: Visit Rozhen Monastery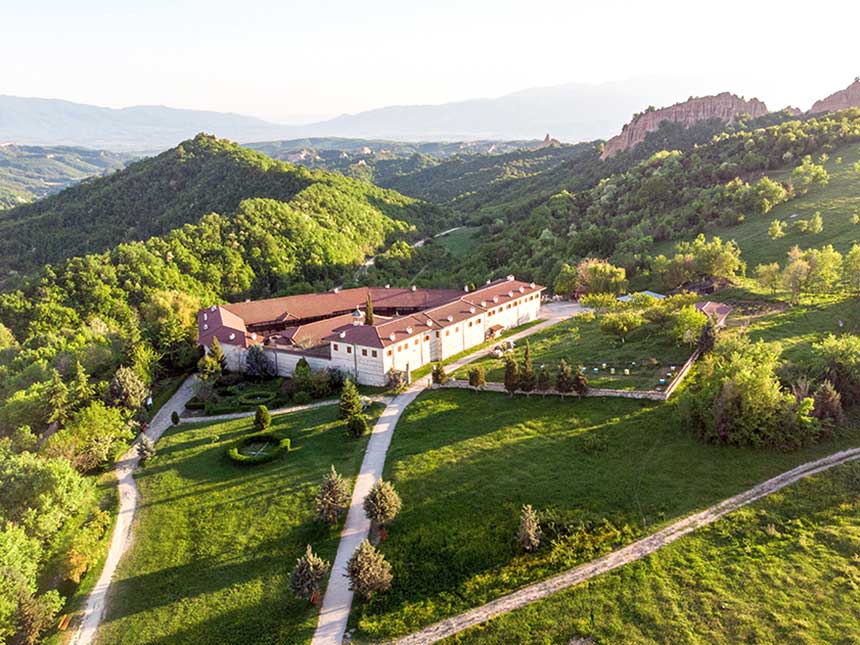 Take a detour to Rozhen Monastery, an emblem of the Bulgarian Orthodox Church. A center of spirituality and historical significance, the monastery offers a deeper insight into Bulgaria's religious traditions and history.
Afternoon: Rupite Region and St. Petka of Bulgaria Temple
Follow the country roads towards the Rupite region, a haven for nature and history enthusiasts. Home to the ruins of an ancient town, a plethora of diverse flora and fauna, and healing mineral springs, Rupite will captivate your senses.
Rupite also bears the legacy of Vangeliya Gushterova, or Vanga, the renowned Bulgarian prophet and healer. Visit the memorial temple of St. Petka of Bulgaria, a shrine enriched with wall paintings by the Bulgarian artist Svetlin Rusev.
Evening: Melnik Wine Museum and Wine Tasting
Your day culminates at the Melnik Wine Museum, celebrating Bulgaria's distinguished wine-making history. Navigate through exhibits showcasing traditional presses and barrels, and unravel the story of wine in this region.
Savor the local Melnik 55, a rich red wine exclusively produced here. It blends Mavrud and Melnik grapes with Cabernet Sauvignon to yield a complex flavor profile, exuding dark fruit, spice, and oak aromas. Relish its balanced acidity, tannins, and long, lingering finish. Pair it with hearty dishes, cheese, or desserts for an elevated gastronomic experience.
Bid farewell to the day, gratified by the cultural richness and historical depth of Melnik and its surroundings, ready to embark on another day of exploration and discovery.
Day 3: A Journey from Melnik to Bansko
Distance Covered: 105 km | Drive Time: ~1h 35m | Terrain: Country Roads
Morning: Drive to Bansko
Embark on a beautiful 105-kilometer journey from Melnik to Bansko, cruising along the E79 road. As you traverse the captivating Pirin Mountains, feast your eyes on the panoramic views of the idyllic landscape. Take a moment to soak in the serene charm of the small towns and villages you pass en route.
A reminder: weather in the Pirin Mountains can be unpredictable, especially during April and late September. Checking the forecast and coming prepared will ensure a smooth journey.
Midday: Arrival in Bansko
Nestled in the embrace of the Pirin Mountains, Bansko beckons you. An idyllic ski destination in winter, it blossoms into a hub of outdoor activities in summer. Take to the trails for hiking or mountain biking, or try rock climbing to test your strength and agility.
Afternoon: Exploring Bansko's Rich History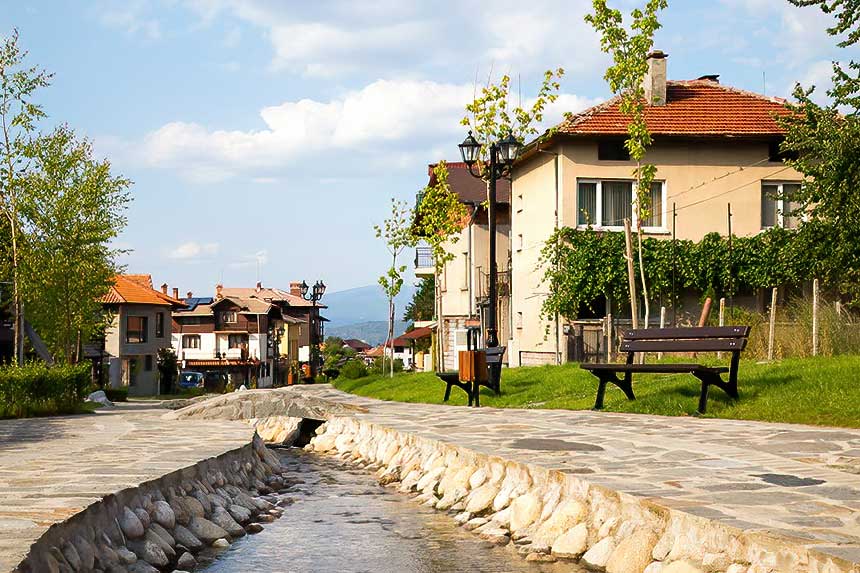 Bansko is not just about the outdoors; it also offers a wealth of history and culture. Discover the Bansko Museum, preserving centuries of the region's past. Visit the Church of the Holy Trinity and the Velyanov House, each a testament to Bulgaria's rich architectural heritage.
Relax at local thermal baths and spas, or treat your palate to authentic Bulgarian cuisine at the town's many restaurants. If you're looking for a memento of your journey, local markets offer a selection of unique souvenirs.
Evening: Bansko Jazz Festival and Nightlife (August)
The setting sun ushers in a vibrant nightlife in Bansko, ranging from quiet bars to lively clubs and music venues. You're in for a treat if your visit aligns with August's annual Bansko Jazz Festival. This festival has been a magnet for local and international jazz musicians since 2002, showcasing diverse music genres.
Join in the rhythm of jazz, blues, funk, and soul as concerts unfold around you in outdoor and indoor venues. Engage in workshops and masterclasses hosted by musicians and industry professionals, providing a deeper understanding of the music industry.
As the last notes of the evening fade away, rest in anticipation of yet another day of exploration in the alluring landscape of Bulgaria. Be sure to book your accommodation in advance during the festival season as Bansko bursts to life with visitors from around the world.
Day 4: From the Peaks of Bansko to the Valleys of Smolyan
Distance Covered: 210 km | Drive Time: ~4h 15m | Terrain: Country Roads
Morning: Departure from Bansko
As the morning sun rises over Bansko, you begin your journey to Smolyan. Covering a distance of 210 kilometers, you'll travel through the scenic beauty of the Rhodope Mountains. You'll take in the rustic charm of towns like Dospat, Trigrad, and Devin on your way. The drive is about 4 hours and 15 minutes long, mostly on country roads with varying conditions, so prepare accordingly. Checking the weather forecast will help anticipate any weather-related changes on your route.
Midday: Explore Dospat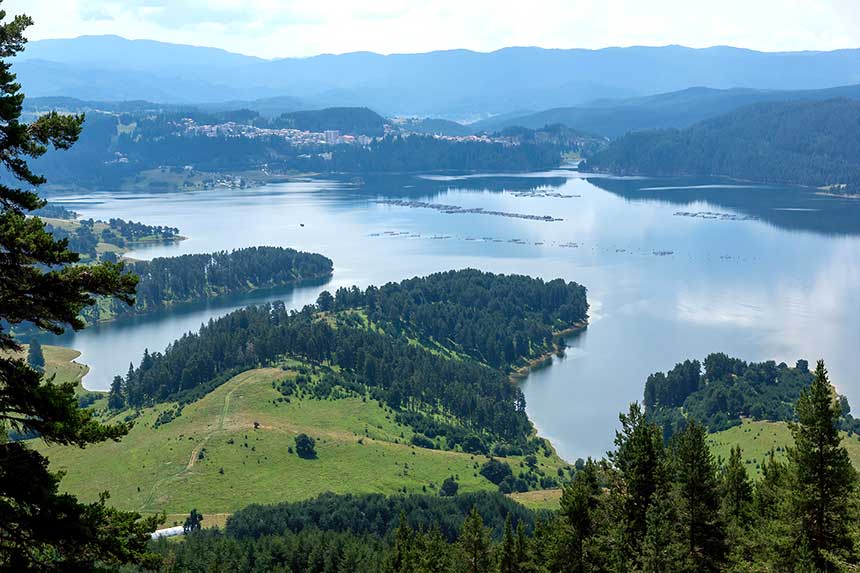 Welcome to Dospat, a quaint town nestled around a large artificial lake, Dospat Dam. The lake invites visitors to enjoy swimming, boating, and other water sports in the summer. If you prefer land-based activities, the area has hiking and biking trails that offer fantastic views of the surrounding landscape.
Consider visiting the Smolyan Lakes, a chain of lakes carved into the mountains, and the Shiroka Laka village. Known for its unique architectural style and cultural traditions, Shiroka Laka gives you a peek into Bulgaria's past.
Afternoon: Journey Through Trigrad
As you progress towards Smolyan, you'll pass through Trigrad, home to the stunning Trigrad Gorge. The gorge is a paradise for hikers, with trails leading through it, providing breathtaking views of the surrounding landscape. Don't forget to explore the small waterfalls and caves sprinkled throughout the area.
You'll find the Yagodinska Cave and the Devil's Throat Cave close to the main road to Smolyan. These extensive cave systems are well-known tourist attractions, with guided tours that lead you through the subterranean wonders.
Late Afternoon: Relax in Devin
A short drive away, Devin awaits its natural hot springs. Known for its therapeutic properties, the springs have become a hub for relaxation and wellness. Take a dip and let the warm waters rejuvenate you, or visit a local spa and wellness center for treatments incorporating the natural spring water.
Evening: Arrival in Smolyan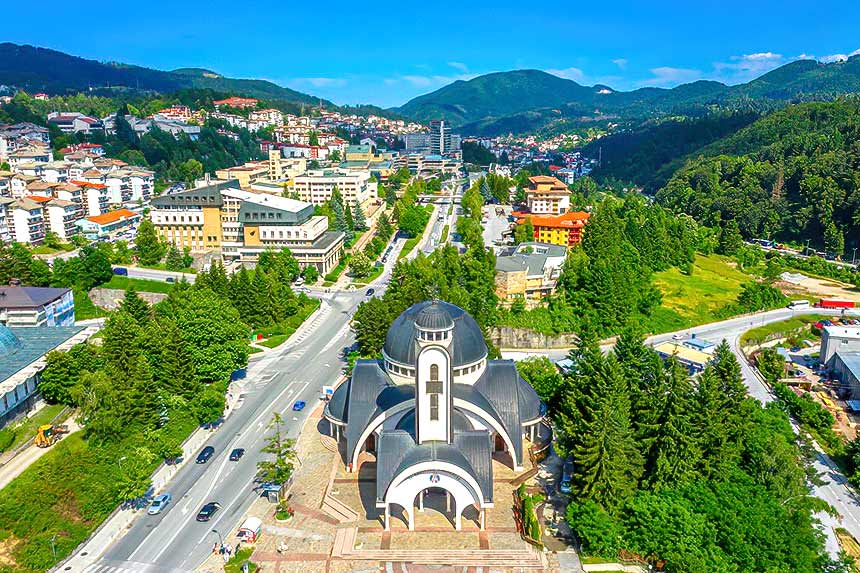 After a day full of natural wonders, your final destination for the day is the peaceful town of Smolyan. Here, you can rest and refuel with some of the delectable local food on offer. As you unwind, prepare for the next day's adventures that will take you through Cross Forest Monastery, Plovdiv, and finally, back to Sofia.
The beauty of Bulgaria continues to unfold on your journey, presenting you with a mix of outdoor activities, historical sites, and local culture, ensuring an unforgettable experience.
Day 5: The Journey from Smolyan to Sofia
Distance Covered: 270 km | Drive Time: ~5h | Terrain: Country Roads and a Highway
Morning: Departure from Smolyan
Start your day bright and early as you set off from Smolyan for Sofia, the capital of Bulgaria. This journey will take you through various stunning landscapes and involve approximately 270 kilometers of travel and about five hours in the car.
First Stop: Cross Forest and Cross Forest Monastery
The first stop on your journey is the beautiful Cross Forest and the Cross Forest Monastery. This protected area is serene and filled with the natural beauty of the Rhodope Mountains. You may also consider visiting the Asenova Fortress and the Bachkovo Monastery as alternative options or the Red Church. Remember to respect the environment by following the area's rules and regulations and practicing "Leave No Trace principles".
Midday: A Short Stop in Plovdiv
Arriving in Plovdiv around lunchtime, you'll have the chance to explore the old town. Known for its cobblestone streets and architecture dating back 150 years, it's like taking a step back in time. The old town is also home to the Ancient Roman Amphitheatre and numerous small coffee shops.
Souvenir Tip: The old town is the perfect place to find traditional souvenirs.
After your exploration in Plovdiv, continue your journey to Sofia. The E80 highway provides an easy drive, covering a distance of around 175 kilometers in about 2 hours.
Afternoon and Evening: Sofia
Upon arriving in Sofia, enjoy exploring this vibrant city for the remainder of the day. Given the driving done throughout the day, we recommend parking at the hotel and exploring the city on foot. Here are a few recommended activities:
Explore Sofia City Art Gallery: Discover Bulgarian and international art at the Sofia City Art Gallery. Housed in a beautiful old building in the city's heart, this is the perfect place to immerse yourself in art and culture.
Dining Tip: As the day winds down, enjoy a leisurely stroll along Vitosha Boulevard, Sofia's famous shopping and dining area. Here you'll find a range of stores, restaurants, and cafes where you can grab a bite or do some last-minute shopping.
As your journey through Bulgaria ends, reflect on the beautiful landscapes, historical sites, and rich culture you've experienced. Whether you're enjoying art in Sofia or walking along the cobblestone streets of Plovdiv, there's no shortage of memories to be made.