Unveil the pristine charm of southeastern Bulgaria, an idyllic panorama of sandy shores, craggy cliffs, and quaint fishing villages. Step onto the golden sands of Duni, Drivers' Beach, and Silistar, reveling in the crystal-clear waters that grace this Black Sea coast. From June through September, the region basks in balmy sunshine and a refreshing sea breeze, an irresistible draw for sun-seekers and nature lovers.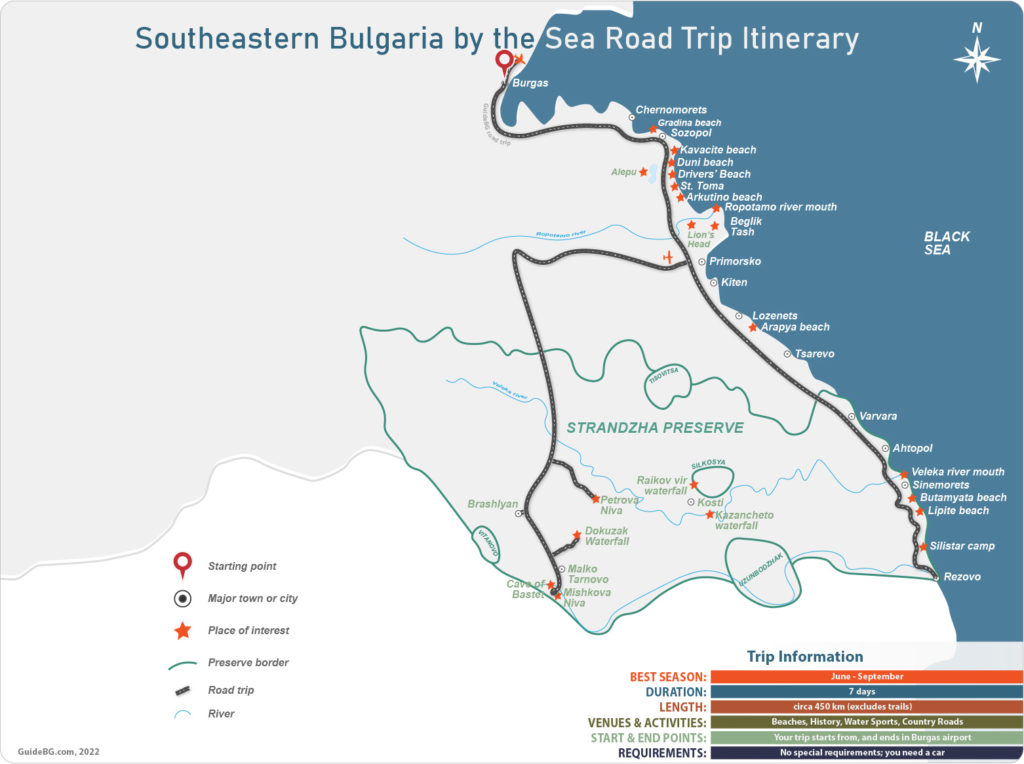 Wander the cobbled streets of traditional Bulgarian villages such as Sinemorets and Sozopol. Here, the air resonates with the clang of fishing boats and the quiet hum of life in stone houses huddled along charming harbors. Tempt your palate with locally-sourced seafood, the region's celebrated wines, and the fiery burn of rakia, a traditional Bulgarian brandy.
Bulgaria's southeastern coast is a trove of historical gems. Stand beneath the shadow of Byzantine churches and monasteries, and trace the contours of history on the stones of the Messembria Fortress, a relic from the 4th century BC. Each monument tells Bulgaria's rich past and enduring cultural traditions.
The Road Trip Stops
Your road trip along the southeastern coast of Bulgaria, including memorable stops at Burgas, Chernomorets, Gradina, Sozopol, Kavaci, Drivers' Beach, Arkutino, the Ropotamo River Mouth, Primorsko, Veleka River Mouth, Sinemorets, Rezovo, Strandzha Nature Park, Brashlyan, Mishkova Niva, and the Bastet Cave, promises a diverse and engaging experience. This journey effortlessly combines the tranquility of seaside leisure with the thrill of ancient history and the allure of untamed nature.
Ideally, anchor your adventures in or around Sozopol, a central location that provides easy commutes to the various sites dotting your itinerary. This trip is a family-friendly adventure, requiring no more than 30 minutes of walking at a stretch. It introduces you to the enchanting vistas and hidden marvels of southeastern Bulgaria and the Strandzha Nature Park.
Prepare to embrace various experiences: water sports, nature discovery, solitary Black Sea beaches, and a rich cultural immersion. Each day trip from your Sozopol base unfurls a new chapter in your Bulgarian story, offering you a tapestry of unforgettable moments.
Day 1 – A Flight to Burgas, then Sozopol Awaits
Navigating Burgas Airport (BOJ)
Journeying from Western Europe to Burgas during the summer is a breeze, with numerous flights serving this route. Burgas airport, with its quaint single strip, greets you in an intimately Bulgarian manner. Post-landing, the ID/passport check serves as a reminder that Bulgaria is yet to be a part of the Schengen area. Once you've claimed your luggage, car rental services are conveniently located in the airport's central area. Secure your pre-booked rental car here, following directions from your service provider. Alternatively, a taxi offers a reliable, efficient option to reach Sozopol. However, be sure to enquire about the fare for a hassle-free journey.
Need help navigating car rentals in Bulgaria – review our Car renting resource!
Tip: If you plan to park, ensure a parking space when booking your accommodation. In Sozopol's old town, the central parking at the old town harbor is convenient.
Distance for the day: 45 km | Time in the car: ~45m | Driving on a motorway | Consult the map
Sozopol: A Vibrant Gateway to the Black Sea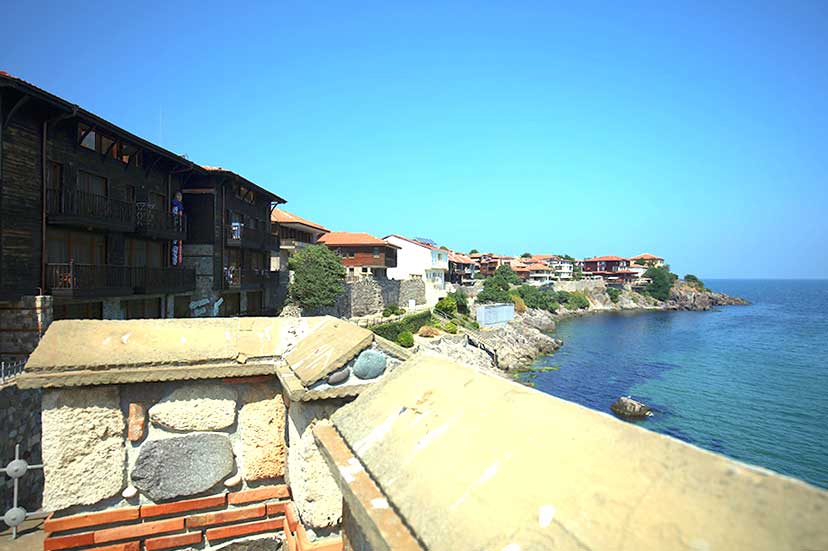 Nestled on Bulgaria's Black Sea coast, Sozopol is a charming mix of historical allure and sandy beaches. In the high season, its narrow lanes, traditional Bulgarian houses, and breathtaking setting attract many visitors. It's also the backdrop for a host of cultural and artistic events, with the Apollonia Art Festival featuring an array of music, theatre, and dance, being a highlight each September.
The old town of Sozopol is a testament to Bulgarian architectural history, preserved beautifully in its churches, museums, and galleries. Scattered around are cafes and restaurants inviting you to sample traditional Bulgarian cuisine.
Apart from soaking in history, you can bask in the sun on Sozopol's pristine beaches, perfect for swimming, sunbathing, and water sports. Pine forests envelop the town, offering a fantastic retreat from the summer heat.
In Sozopol, history and culture blend seamlessly with natural beauty, making it a delightful starting point for your journey. Whether you're a history buff, a culture enthusiast, or a beach lover, Sozopol's summer vibrancy is the perfect base for your Bulgarian adventure.
Day 2 – Unveiling the Coast – Sozopol to Primorsko
Distance for the day: 80 km | Time in the car: ~2h | Driving on country roads | Local trip | Includes short walks | Consult the map
Morning: Journey down the Coastal Road
Embark on a scenic road trip drive down the local coastal road, heading south from Sozopol. Picture-postcard views of the sea and coast accompany you throughout. You'll traverse Kavacite and the quaint Smokinya campsite before the route ascends and then descends, unveiling the mesmerizing vistas of Duni and the Drivers' Beach. Tucked in Alepu, a protected natural reserve area, Drivers' Beach is a tranquil spot favored by locals and relatively overlooked by tourists due to its lack of amenities. Its steep seabed and exposure to northern winds can result in impressive waves, but it's an undeniably captivating stop.
Tip: With small children, be vigilant about safety, mainly when it's windy, and the waves are high.
Afternoon: Explore Alepu Marsh and Beyond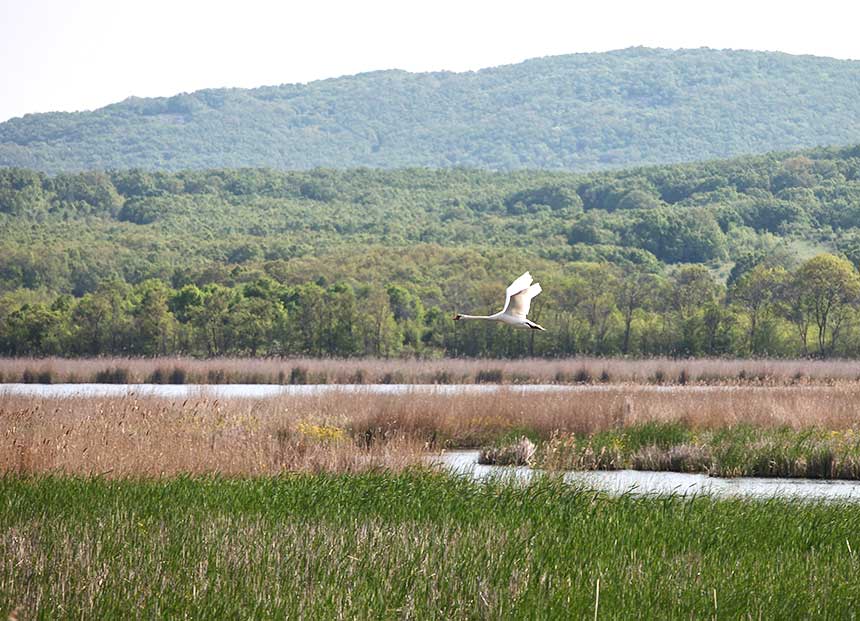 Further along the road, on the landward side, lies Alepu Marsh, a sanctuary for many rare and protected local and migrating birds, turtles, small lizards, and insects. Varying water levels with the season and rainfall create a unique landscape in this marsh that stretches up to 320 meters wide and roughly 3 kilometers long. The surrounding dunes and unique flora, like the sand lily, form a part of the Ropotamo Important Bird and Biodiversity Area (IBA).
Note: While there aren't marked parking spots, and despite it being permissible to park freely in this protected area, exercise caution not to harm any local species. Please observe responsible behavior, and refrain from littering to help maintain the area's natural conditions.
Leaving Alepu Marsh behind, you'll soon join the primary north-south road. Bear left here to continue your southern journey.
Late Afternoon: Discovering Arkutino and Ropotamo River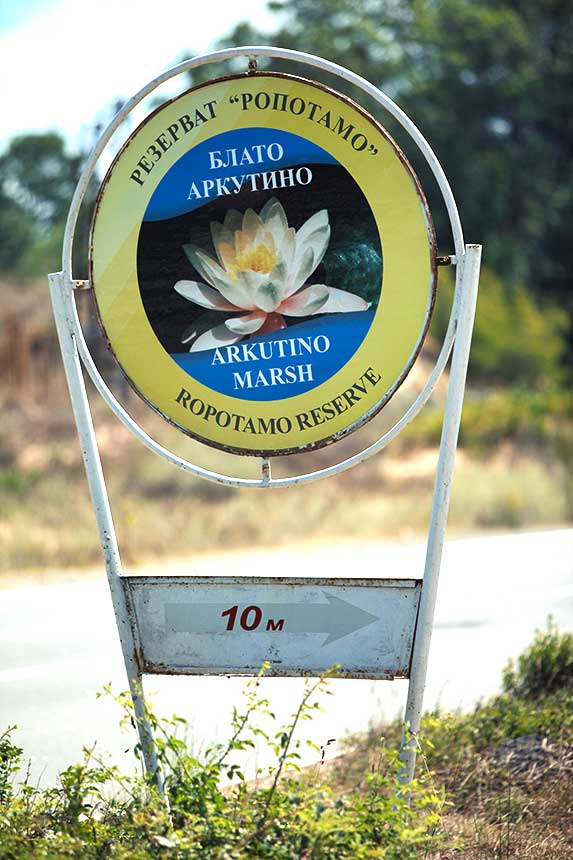 Shortly, you'll reach Arkutino. This area boasts a stunning beach with pristine sands and rolling dunes. You'll find both serviced and non-serviced zones here, offering different experiences. The Arkutino Reserve, part of the more significant Ropotamo Reserve, lies across the main road.
A few kilometers further, the main road intersects the Ropotamo River. A boat station allows for a delightful detour – a short river adventure, either upstream or down to the river's mouth.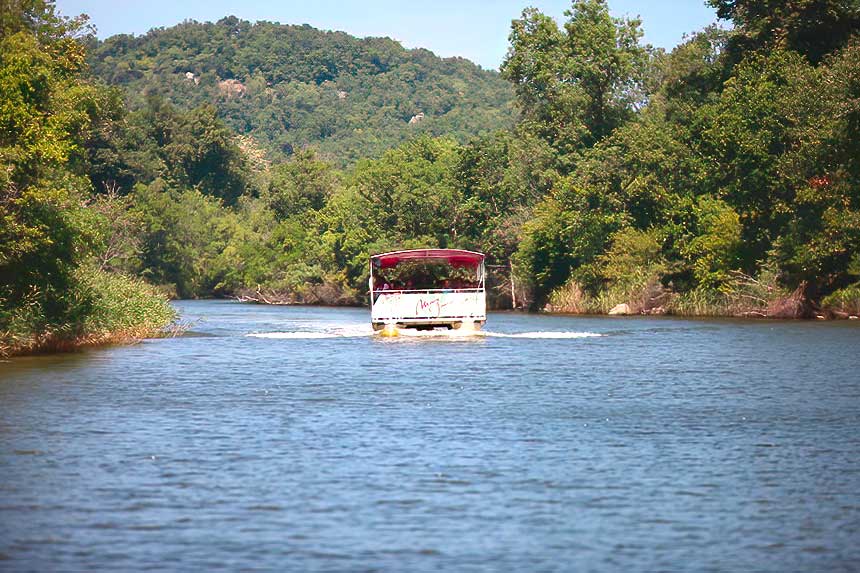 Evening: A Glimpse of Primorsko and Beyond
Continue your journey to the nearby town of Primorsko. More modern than historic Sozopol, Primorsko is bustling with cafes and restaurants for a well-deserved refreshment break. You can drive to Beglik Tash, an ancient rock sanctuary. Every day at noon, a ray of sunlight enters the cave's narrow entrance and transmits light to the cave's back wall.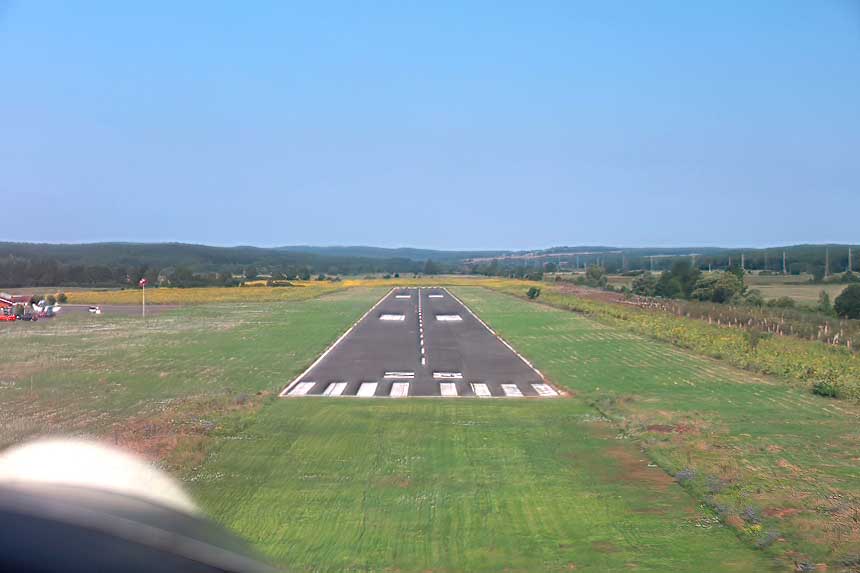 Tip: Primorsko Airfield (ICAO: LBPR) offers aerial flight tours – a unique perspective on the Black Sea shoreline. Two- or four-seater planes and gyrocopters are available for hire, promising an unforgettable end to your day.
Day 3 – Coastal Excursion – Primorsko to Rezovo
Distance for the day: 140 km | Time in the car: ~2h 35m | Driving on country roads and short gravel roads | Local trip | Includes short walks | Consult the map
Morning: Venturing Southwards
Prepare to set off on a day road trip to Rezovo, a journey that unveils the beauty of the southern shore. Do take a moment to check the weather beforehand, ensuring any rain occurs during your drive rather than sightseeing stops. Rest assured, rainfall in this region tends to be brief and confined to small areas.
Embarking from Sozopol, a roughly 66km, one-hour, ten-minute drive to Rezovo awaits. As you venture south, the road narrows, calling for careful driving and an eye for roadside-parked cars.
Lunch: Rezovo, the South-Easternmost Point of the EU
Rezovo, the south-easternmost point of the EU, brushes against the Turkish border at the Black Sea. This quaint village boasts a small beach and several local Bulgarian restaurants. Here, you can savor a meal while being a stone's throw away from another country.
Note: Bulgarian border patrols may request documents upon entering Rezovo as an EU border region. Ensure you have your ID and car documents handy.
Afternoon: Northward Bound
Having visited the southeasternmost EU point, embark on a northern journey, exploring the myriad sun-soaked beaches this Black Sea region offers. A 25-kilometer drive brings you to Sinemorets, home to the Veleka River Mouth and Veleka Beach, along with Lipite Beach and Butamyata Beach.
Late Afternoon: Veleka Beach, a Unique Experience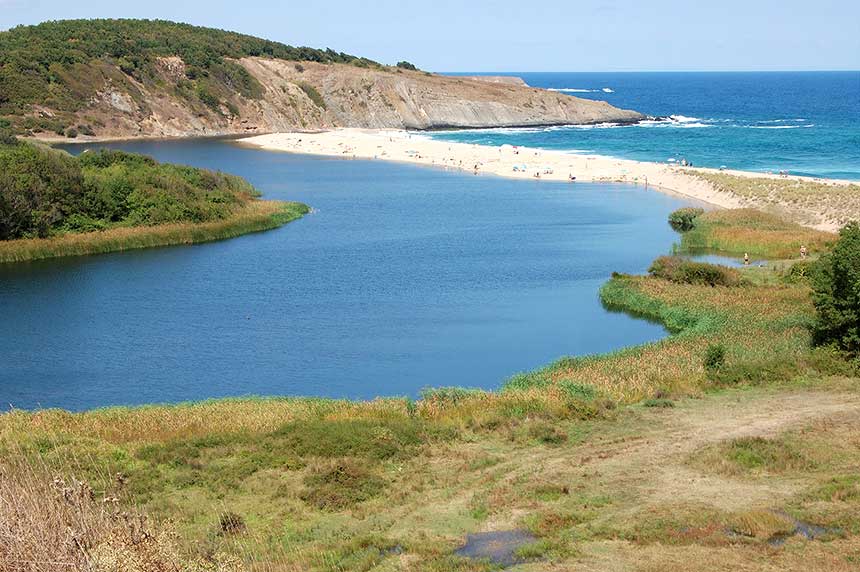 Veleka Beach, set on the sandy stretch between the Veleka River and the Black Sea, offers a unique beach experience. With its spacious layout and stunning views, this location is a gem. It caters to different preferences, featuring free and paid zones with beach bars and showers. It's an ideal spot for SUP surfing, kayaking, boating, windsurfing, and kiteboarding, depending on the weather conditions.
Tips for Families: Be mindful that the seabed can be steep so children may need supervision in the free and unguarded areas. The paid zone, with lifeguard support and proximity to food areas, is recommended for families.
Evening: Discovering Ahtopol
Fifteen minutes northward lies the relaxed town of Ahtopol, a quintessential Bulgarian seaside locale. With a protected fishing harbor to the south and scenic beach areas to the north, it's an excellent spot for a sea-facing coffee break near the Ahtopol lighthouse.
Continuing north, you'll pass several small seaside towns, including Varvara, Lozenets, and Kiten, and discover iconic Bulgarian beaches such as Nestinarka Beach, Arapya Beach, Coral Beach, Atliman Beach, and the Sand Dunes Beach before returning to Primorsko. While these beaches were once tranquil, tourism has brought an influx of activity, illustrating the rapid transformation from peaceful seaside towns to bustling resorts.
Day 4 – Unraveling the Secrets of Strandzha Nature Park
Distance for the day: 220km | Time in the car: ~3h 10m | Driving on country roads and gravel roads | Local trip | Includes short walks | Consult the map
The Journey: The Allure of Brashlyan Village and Mishkova Niva
Day four presents an enriching journey into the depths of Strandzha Preserve. Encompassing a distance of 220km, approximately 3 hours and 10 minutes by car, today's road trip offers glimpses into Bulgaria's rich historical and cultural tapestry.
Morning: The Historical Tapestry of Mishkova Niva
This expedition is a journey into relaxation and rejuvenation, beginning at Mishkova Niva in Strandzha. This site exudes historical richness and cultural significance. The domed temple and mound necropolis are riveting landmarks, testaments to the region's illustrious past. Further adding to its allure, the Thracian fortress on Mount Golyamo Gradishte and the Bastet sanctuary at the mountain's foot enhance the overall cultural importance of the site.
Afternoon: Unveiling the Charm of Brashlyan Village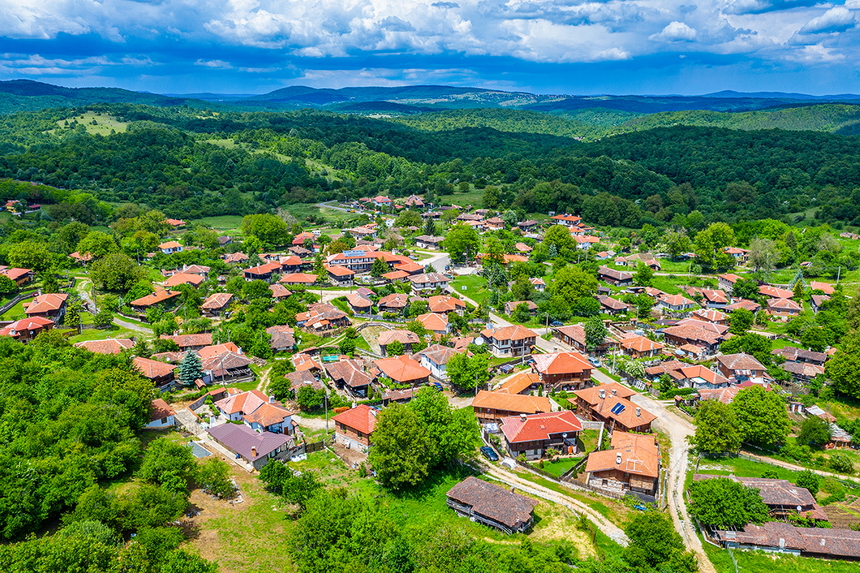 Brashlyan village, with the nearby dolmens, mounds, and sanctuaries, bears witness to an ancient human presence. Initially named Sarmashik, this village dates back to the late 17th century. Among its attractions, the village church of St. Dimitar likely holds a central place in local history, adding an intriguing layer to the village's narrative.
Evening: Reflections on the Thracian Civilization
The Thracians, an ancient civilization flourishing from the 5th century BC to the 6th century AD in what is now Bulgaria and parts of southeastern Europe, were renowned for their craftsmanship and sophistication. Echoes of their legacy can still be traced in the ruins and artifacts strewn across the region. The Mishkova Niva sanctuary and its surroundings serve as a rich repository of Thracian history and culture, promising a fascinating visit for anyone captivated by ancient civilizations or the history of Bulgaria.
Day 5 – Basking in the Coastal Charm of Burgas
Distance for the day: 65 km | Time in the car: ~1h | Driving on a motorway, and in the city | Local trip | Includes city walk | Consult the map
Navigating the Day: Details of the Journey
On the fifth day of your journey, prepare to immerse yourself in the allure of Burgas. This local road trip involves a short 65 km drive, with an approximate duration of an hour. It will take you along motorways and through the city, offering a delightful city walk.
Morning: Burgas Beaches – A Haven for Relaxation and Adventure
Burgas is celebrated along the Black Sea coast for its captivating beaches, rich cultural tapestry, and vibrant nightlife. If you're traveling with children, there's an array of kid-friendly activities to enjoy. Start your day by unwinding on one of Burgas's stunning beaches, Central Beach or North Beach, offering a wide array of water sports and activities.
Afternoon: Exploring Art and History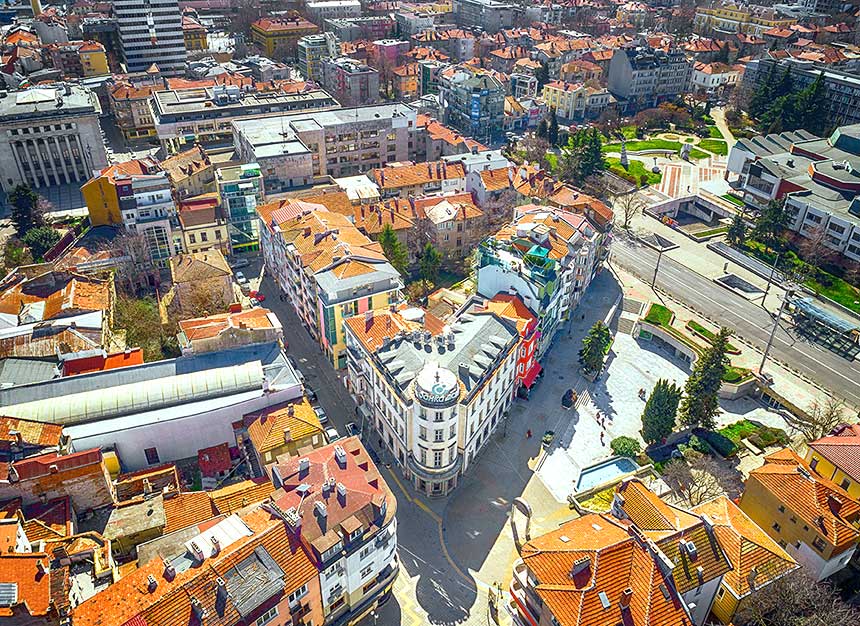 Post a relaxing morning, and go to the Burgas Art Gallery. Here, you'll witness a diverse collection of Bulgarian and international artworks, ranging from paintings and sculptures to contemporary installations. Further, immerse yourself in the past by visiting the Burgas Archaeological Museum. This treasure trove boasts a vast collection of ancient artifacts spanning the Neolithic and Bronze Age and the Roman and Byzantine periods.
Day 6 and 7 – Embracing the Serenity of Sozopol's Beaches
No driving on day 6 | Commuting to the airport on day 7
Soothing Sands: The Charm of Southeastern Bulgaria's Beaches
In the enchanting realm of southeastern Bulgaria, the beach forms a sanctuary where relaxation and amusement go hand in hand. Whether it's sinking into the welcoming sand, frolicking in the playful waves, or engaging in a delightful session of sandcastle building with the kids, the beach unveils endless avenues for fun and recreation.
Relaxation Redefined: Basking in Beach Bliss
Beyond the thrill of activities, the beach in this corner of Bulgaria also serves as the ideal setting for tranquility and rest. The rhythmic lull of the waves, the tender warmth of the Black Sea waters, and the invigorating sea breeze brushing against your skin weave together a comforting tapestry of peace and contentment that is rare to find elsewhere.
Time Out: Rejuvenating at Your Favorite Local Beach
As you approach the end of your journey, consider granting yourself a well-deserved timeout. Head over to one of your favorite local beaches and surrender to the restorative power of the sea breeze and the soothing sensation of sand beneath your toes. The beach's therapeutic magic promises an experience bound to captivate and rejuvenate.